Find Our Investor Presentations Here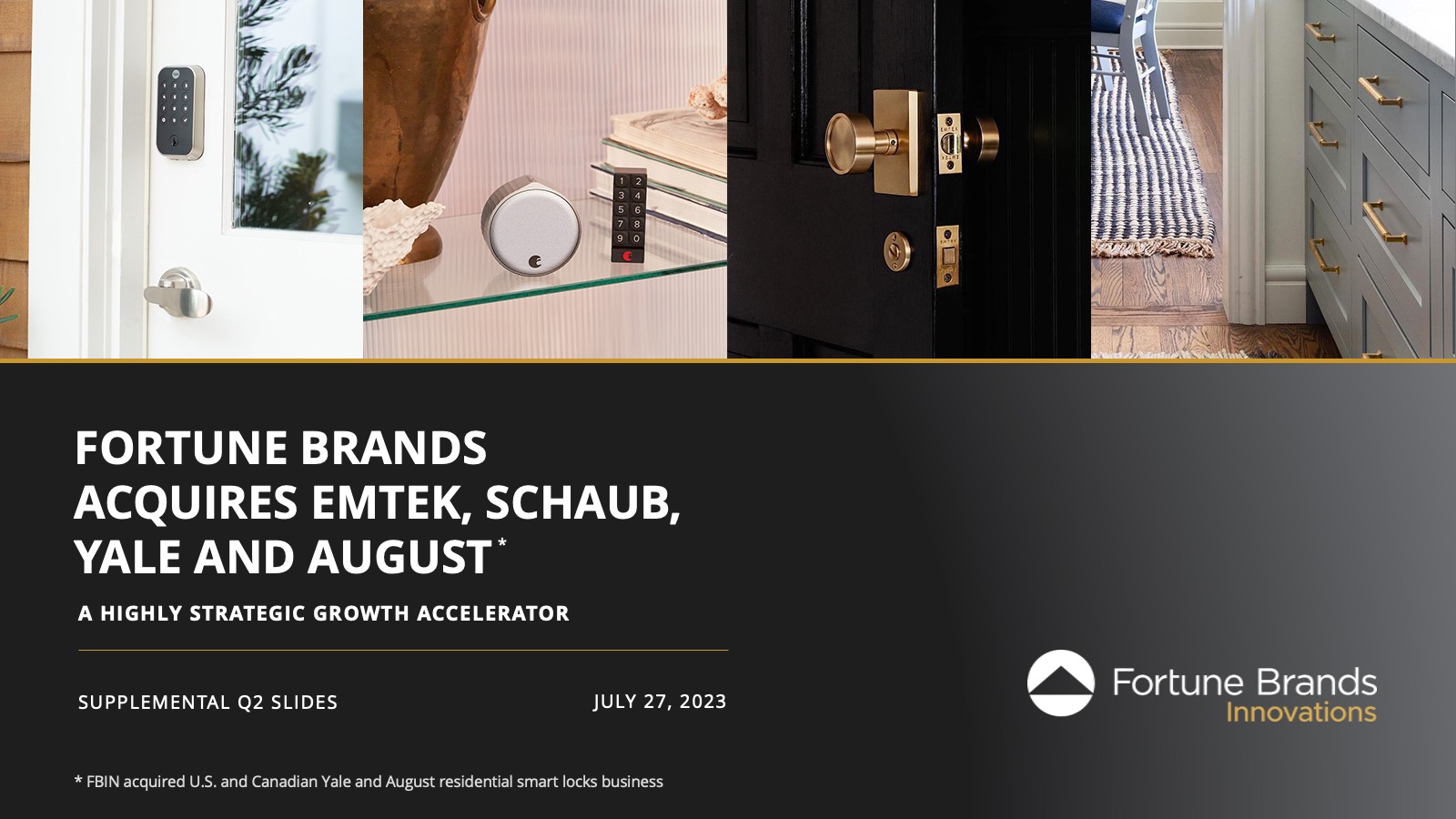 Acquisition Presentation: Fortune Brands Acquires Emtek, Schaub, Yale and August
Posted July 2023
Our latest acquisition will be a highly strategic growth accelerator for FBIN. Learn more about the acquisition and the Company's guidance in this supplemental slide deck to Fortune Brands' Q2 2023 earnings release and investor conference call.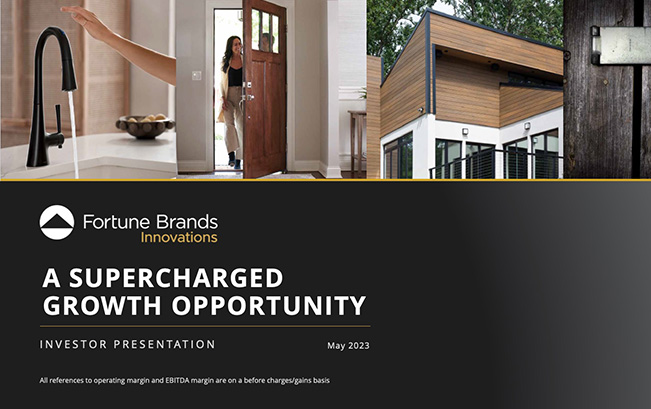 Fortune Brands Investor Presentation
Posted May 2023
Learn more about how Fortune Brands is advancing its brand, innovation and channel leadership and pursuing exciting, supercharged categories.
Investor Day Resources
Fortune Brands hosted an Investor Day on December 6, 2022, at the New York Stock Exchange. Thank you to everyone who attended in-person and listened in through the live webcast to hear our leaders speak to Fortune Brands Innovations' future of accelerated growth and productivity.
Recap Video
In this 14-minute event recap, you'll hear highlights from our senior leaders about why Fortune Brands Innovations is poised for accelerated growth and productivity.
A Supercharged Growth Opportunity
Fortune Brands Innovations is a brand, innovation and channel leader focused on exciting, supercharged growth opportunities within the home, security and commercial building markets. We operate in the high-growth categories of water, outdoors and security, which are powered by strong tailwinds and underpinned by our leading brands. Watch the video.
Brand Power
Strong brands help us stand out from our competition, drive sales and increase profit. We have a unifying brand strategy that helps us enhance the inherent equity in each of our brands, building out even greater strengths and advantages. This enables us to get the most from each brand individually and collectively.
Learn more about the power of our great brands in this video from Chief Marketing Officer Mark-Hans Richer.
Moen Smart Water Ecosystem
Moen, the #1 consumer faucet brand in North America, is also a leader in smart home water monitoring and management. The Moen Smart Water Ecosystem is a collection of smart products in a single, integrated app. With features like Leak Detect, which can help homeowners prevent catastrophic water damage, Moen is leading the way in how we monitor, control and conserve water in the home. Watch the video.